The Democrats are threatening virtually every person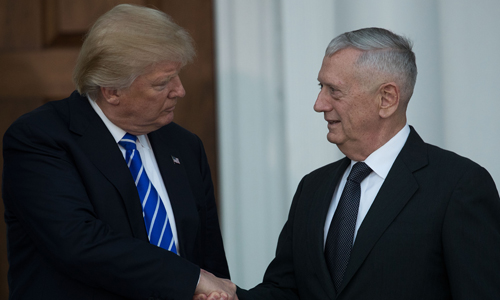 On Tuesday's Mark Levin show, The Democrats are threatening virtually every person President-elect Donald Trump is nominating to his cabinet, including General James Mattis. They are doing this, because of a 1947 statute that prohibits a former member of the armed forces from serving in a cabinet post within 7 years of retirement. What Trump and his team need to do is challenge this and bring it to the Supreme Court if necessary. The 1947 statute is not in the Constitution. Later, the Electoral College has nothing to do with slavery as Rep John Conyers says. The left wing tenured professors that claim this don't know what they are talking about. Population should not dictate everything that happens in the U.S. The Framers of the Constitution rejected mobocracy, yet people still want it. Also, support for the Electoral College is the highest it has ever been in America over 49 years of polling according to Gallup. After that, when it comes to foreign policy the president-elect is free to speak to whomever he wants to. Trump spoke with the president of Taiwan and China is running to the U.N. to protest. While they are not going to start a war over it, Trump better start building the military as quickly as possible. We are not the provocateurs or imperialists, but as America we must not appease.
THIS IS FROM
NRO
General Mattis Could Serve as Secretary of Defense Even without a Waiver from Congress
NBC News
China Flew Nuclear-Capable Bombers Near Taiwan Before Trump Call
Hot Air
David Brock: 'Trump is off-the-rack impeachable'
NTK Network
Dem Congressman Concedes Trump Could Have Won Election Without Electoral College
CNS News
Support for Abolishing Electoral College Hits Historic Low in Gallup Poll
Forbes
Thanks To 'Fight For $15' Minimum Wage, McDonald's Unveils Job-Replacing Self-Service Kiosks Nationwide
Red State
Stop Lying To The American Working Class: We Are Manufacturing MORE Than Before
Conservative Review
That Japanese investment money Trump announced today? Turns out it's from Saudi Arabia!
The Daily Wire
SURPRISE! Carrier Raises Prices.
CNS News
DOJ Settlement on VW Emissions Requires German Automaker to Promote Electric Vehicles
Boston Herald
Fed judge rules AG Healey must appear in Texas for Exxon deposition
The College Fix
University's 'Whiteness Forum' takes 'critical look at whiteness'
NTK Network
Disgruntled Democrats Want A Constitutional Convention To Leave The Union

Mark Levin has become one of the hottest properties in Talk radio, his top-rated show on WABC New York is now syndicated nationally by Citadel Media Networks. He is also one of the top new authors in the conservative political arena. Mark's radio show on