There is nothing irresponsible with President elect Donald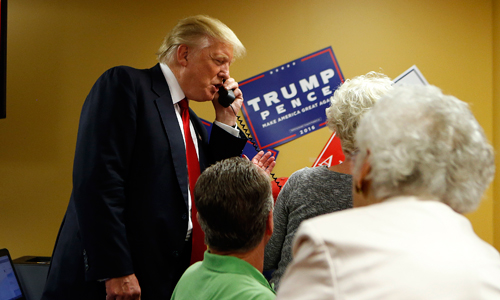 On Monday's Mark Levin Show, There is nothing irresponsible with President elect Donald Trump's phone call with the President of Taiwan, it was outstanding. China is flexing its muscle, stealing mineral rights, claiming international waters and airspace and Trump can't take a phone call from Taiwan's president? China is not going to war over this, but now they understand that Trump is not President Obama when it comes to foreign policy. After that, there are some people who have revealed themselves as dishonest when it comes to capitalism. They are playing the populist game by pandering and promoting Trump's trillion dollar infrastructure plan. Infrastructure stimulus is based on the Broken Windows Fallacy. When you take a trillion dollars out of the economy you have destroyed a trillion dollars in the private sector. This money could have created far more jobs than the state could. After that, Vice President elect Mike Pence has given up on capitalism and is now choosing authoritarianism when it comes to the economy. Protectionism is not capitalism but it is cronyism and authoritarianism. Finally, John Bolton is the absolute best candidate for the position of Secretary of State. Jon Huntsman, Bob Corker, Mitt Romney and other candidates would get eaten up by America's enemies, such as China.
THIS IS FROM:
Mises Institute
The Broken Window Fallacy by Henry Hazlitt
Daily Wire
Trump Pushes Economic Berlin Wall, Republicans Shrug
Daily Caller
New Audio: Ellison Claimed Jews 'Mobilized' By Israel To 'Do Its Bidding In America'
Washington Examiner
Al Gore just had 'an extremely interesting conversation' with Trump on climate change
NY Times
In Harsh Terms, Kerry Says Israel Is Undermining Peace Efforts
Right Scoop
Mark Levin: The Tea Party is strong and the Reagan Democrats are back! (May 9, 2012)
The podcast for this show can be streamed or downloaded from the Audio Rewind page.

Mark Levin has become one of the hottest properties in Talk radio, his top-rated show on WABC New York is now syndicated nationally by Citadel Media Networks. He is also one of the top new authors in the conservative political arena. Mark's radio show on